Welcome to the world of Miras and Eastern Mediterranean cuisine
Take a seat at an inviting long table brimming with colourful bowls filled with delicious dishes straight from nature.
Did you know that Miras means "heritage"? Of course, there is a reason behind the brand name!
Miras Food was created from passion for Eastern Mediterranean cuisine. A kitchen that is known for dining together with friends, family and neighbors. Eating together at a large table full of beautiful colored dishes, carefully selected local ingredients and dishes prepared with lots of love.
Recipe of the month
35 min.
6 p.
Bulgur salad with Eggplant, Mint & Feta
Get cooking with Miras!
With the right basic ingredients you can make the most surprising dishes. Mix to taste, make oriental versions of your classics and try out new flavours – vary and add a personal twist.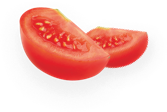 Miras Sun Dried Peppers

Dried peppers are also a favorite in Turkey. In the past, this vegetable was dried in the sun to have enough supplies in the winter. Today, the dried peppers are widely sold because of their intensive and special taste. They are a real addition to your dish. For example, do you want to make a tasty dolma? Then use aubergines and peppers! There are 25 pieces in a bag of dried peppers. Keep it tightly closed in a dry and dark place.

Miras Sun Dried Eggplants

The eggplant is still one of the most eaten vegetables in Turkey. To what does this vegetable owe this success? The eggplant are first hollowed out and then dried on strings in the sun. This drying process provides an intense taste experience! There are 25 dried eggplants in a Miras package. This is enough to prepare a delicious dolma meal for 4 to 5 people.
1920-2019 Miras, a tasty legacy
In a small Eastern Mediterranean town, the Aslan brothers were known for their delicious sweet sesame nougat. Their childhood dream of opening their own shop came true. They started selling local olives, grains, fruits and vegetables. Neighbours and friends enjoyed their cooking. Their long table was brimming with colourful and delicious dishes, and their shop soon grew into an international business.