Healthy, traditional, pure
The Eastern Mediterranean cuisine has a long, rich history. As a result, there are many recipes to choose from and just as many variations of each dish. Eastern Mediterranean food has always been spicy. Today, it is paired with trendy superfoods, and mixed together in stews and creative party food. There's something for everyone, and variety is all around.
50 min.
Stuffed aubergines with minced meat from the oven
Karnıyarık
30 min.
Köfte kebab with yoghurt
Yoğurtlu Köfte Kebab
20 min.
Vegetarian
Nut rice pilaf
Fındıklı pilav
20 min.
Vegetarian
Bulgur with tomatoes
Domatesli Bulgur Pilavı
15 min.
Vegetarian
Vegetarian bulgur-lentil balls
Mercimekli köfte
50 min.
Rice pilaf with orzo and Türlü
Arpa Şehriyeli Pirinç Pilavı ve Türlü
Add your favourite ingredients from all over the world and surprise even the best of connoisseurs!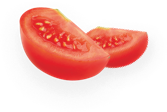 30 min.
Vegetarian
Classic Turkish lentil soup
Kırmızı mercimek çorbası
15 min.
Vegetarian
Chickpea hummus
Humus
30 min.
Vegetarian
Bulgur salad
Kısır
25 min.
Adana Kebab Skewers
Adana Kebab
Mix the basic ingredients to taste
Discover a range of fine dishes with a mix of traditional flavours. Add the most delicious Eastern Mediterranean herbs and spices, and combine various dishes to create surprising flavour combinations.