Welcome to the world of Miras and Eastern Mediterranean cuisine
Take a seat at an inviting long table brimming with colourful bowls filled with delicious dishes straight from nature.
Serve a healthy, tasty and surprising oriental-style feast
Bowls filled to the brim, colourful dishes and tasty foods. Versatile yet easy to prepare with sun-ripened fruit and plenty of vegetables.
Recipe of the month
50 min.
6 p.
Stuffed Aubergines with Minced Meat from the Oven
Karnıyarık
Get cooking with Miras!
With the right basic ingredients you can make the most surprising dishes. Mix to taste, make oriental versions of your classics and try out new flavours – vary and add a personal twist.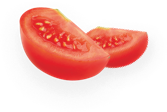 20 min. 4 p.

Nut Rice Pilaf

Fındıklı Pilav

Nuts are rich in minerals and vitamins, which is indispensable in a healthy lifestyle. This nut rice pilaf combines it all, making it a real vitamin bomb. Taste and feel!

50 min. 4 p.

Rice Pilaf with Orzo and Türlü

Arpa Şehriyeli Pirinç Pilavı ve Türlü

Stews old-fashioned? No way! Combine something traditional with some on-trend touches this winter. Try making this Nomad's ratatouille with lamb at home. Heat up the stove and bring on the cold weather!

15 min. 5 p.

Chickpea Hummus

Humus

Hummus is widely available nowadays, but nothing compares to home-made hummus. Great as a spread on bread or as a starter. This healthy Eastern Mediterranean chickpea paste originates from Lebanon. You can easily prepare it yourself and add a personal twist. Highly recommended!

30 min. 4 p.

Classic Turkish Red Lentil Soup

Kırmızı mercimek çorbası
1920-2019 Miras, a tasty legacy
In a small Eastern Mediterranean town, the Aslan brothers were known for their delicious sweet sesame nougat. Their childhood dream of opening their own shop came true. They started selling local olives, grains, fruits and vegetables. Neighbours and friends enjoyed their cooking. Their long table was brimming with colourful and delicious dishes, and their shop soon grew into an international business.